Krk Cathedral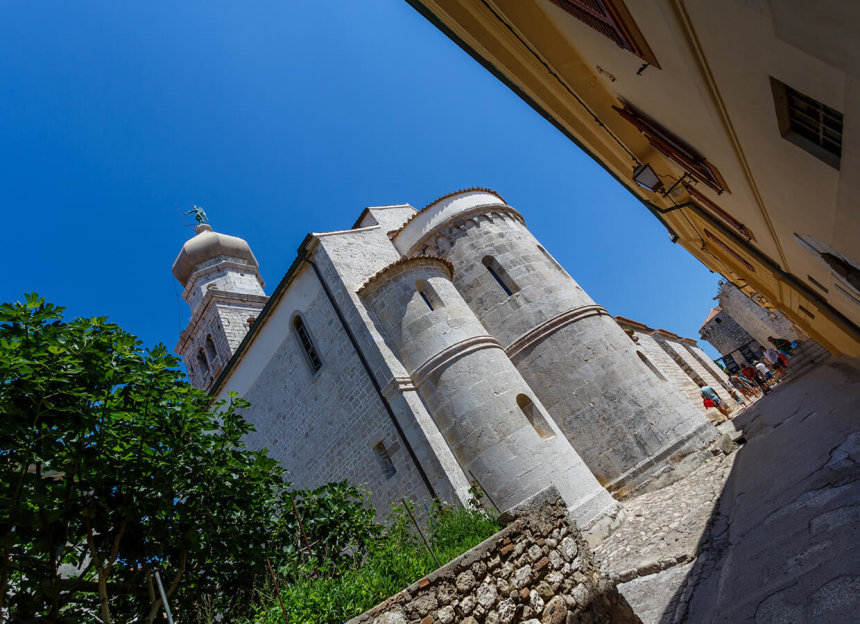 The most prominent feature in the skyline of the town - the Krk Cathedral! With an angel holding a trumpet on top of its belltower, it seems to be welcoming you to your holiday in the town,whether you are arriving by land or from the sea.
In the heart of Krk town
Officially named the Church of the Assumption of Blessed Virgin Mary, it is popularly referred to as the Krk Cathedral. Located in the middle of the historical core right next to the main square Kamplin and the Frankopan Castle, it has been central to public life since Antiquity.
A sign of the times
Reflecting the history and ever-changing trends. While the oldest documented mention of the Cathedral dates back to the second part of the 12th century, it is known that it had existed for several centuries before that. In fact, the initial early Christian basilica was built in the 5th century on the foundations of former ancient Roman baths, the so-called thermae.
Over the centuries the Cathedral complex was expanded on various occasions with additions built in line with the architectural style of the moment. Therefore, it features Romanesque, Gothic, Renaissance and Baroque elements. The widely recognized belltower was added in the 16th century, while the angel was placed on top of it two centuries later.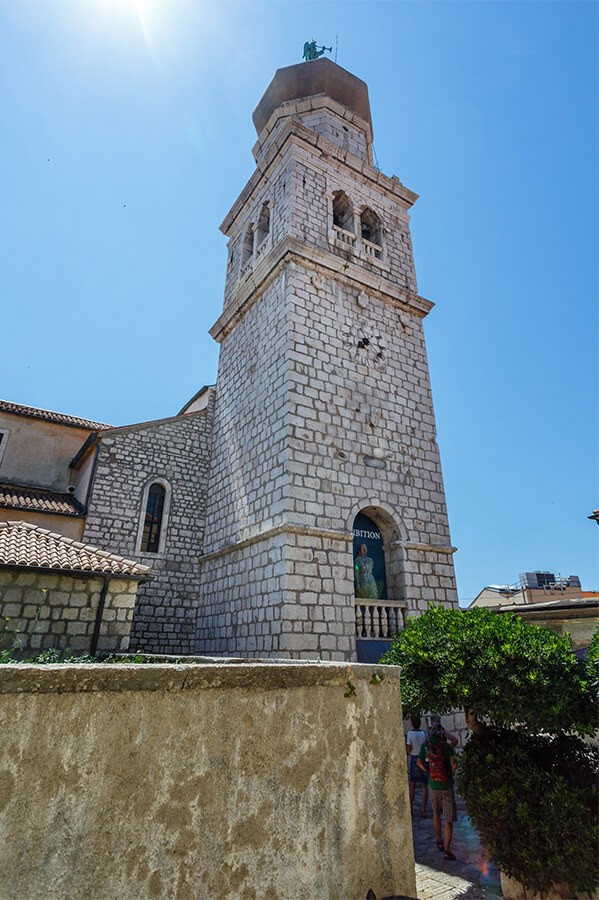 Krk Cathedral curiosities
Unlike most churches built so many centuries ago, it was constructed in the north-south orientation instead of the then typical east-west. The reason is believed to be a lack of suitable space.
Similarly, it is divided into two parts as a result of various renovations. The lower part is dedicated to St Margaret and the upper part to St Quirin, the patron saint of Krk town.
Apart from being used for religious purposes, it is a great venue for concerts usually held in the summer months.
Top sight in Krk town
With its tremendous cultural-historical value in addition to a special feel for all church goers, the Krk Cathedral is a place to see. A unique attraction in the heart of it all.
Subscribe to our mailing list
Subscribe to our newsletter and save during your next booking. Be among the first to receive information about our special offers and promotions, find out travel information, advice and recommendations for the perfect holiday on the island of Krk.