Medicinal mud on Krk island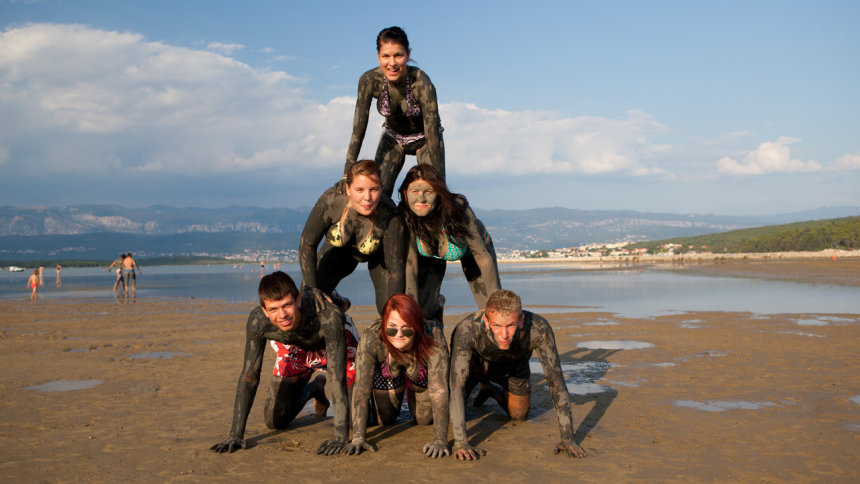 Wallow in fun, wallow in mud… on Krk! Head to the north-eastern part of the island near the town of Dobrinj and discover the spot with the healing mud on the island. Spend a day on the beach there, enjoy the benefits of the mud and snap a few unique photos.
Meline beach between Čižići and Soline
Come in spring, summer or autumn! With one of the longest bathing seasons on the island, the Meline beach with a long stretch of shallow water in Klimno Bay is the place where you can spend a great day out by the sea… with peloid, i.e. healing mud, readily available for free use. There is a parking lot nearby, sun loungers for rent and a café where you can grab refreshment.

Medicinal mud on Meline beach, Krk
Nature at its finest! The healing mud, created as the result of special natural conditions on Krk, has been known to have favorable effects on human health since ancient times. The peloid is, namely, rich in minerals and beneficial organic compounds.
So, once on the beach, apply the healing mud onto your skin avoiding the elbow and knee crease, as well as the skin area near the heart, kidneys and thyroid. Leave the mud on your skin to dry for about 30 minutes and then walk into the sea to wash it off.
Apart from leaving your skin shiny, the healing mud is said to boost metabolism and blood flow. It is especially recommended for people suffering from injuries to their musculoskeletal system.
Fun & healthy
Go all muddy on Krk! Do it for glowing skin, health benefits and for amazing moments on your day out on the Meline beach! And remember, a fun photo of you covered in medicinal mud while having a good laugh tells more than any words about your holiday on Krk!
Subscribe to our mailing list
Subscribe to our newsletter and save during your next booking. Be among the first to receive information about our special offers and promotions, find out travel information, advice and recommendations for the perfect holiday on the island of Krk.