Krk Sport - Your Perfect Active Holiday by the Sea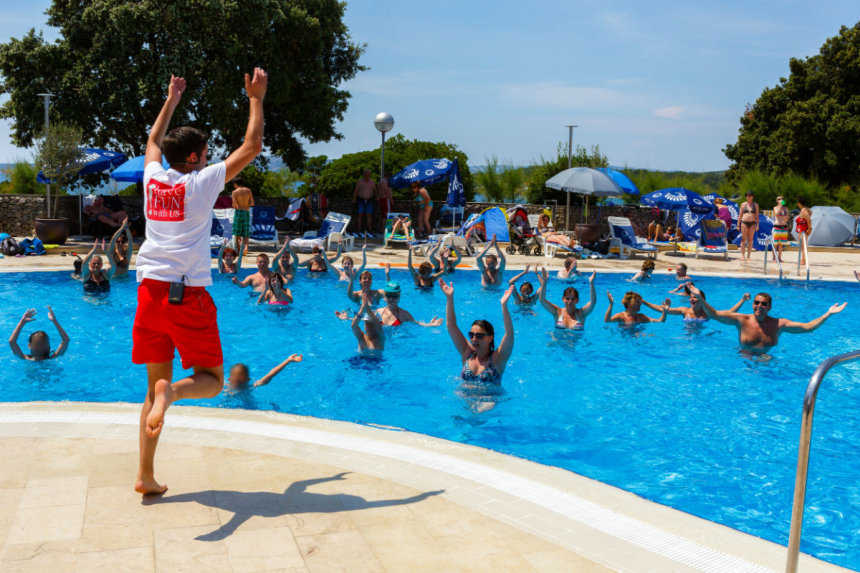 Keep fit and stay in shape while on holiday at the seaside! With a variety of activities at your disposal, being active has never been easier or more exciting. From outdoor workout to fun adventure in Krk town and wider, pick your favourite among the following Krk sport options:
Activity Center Krk
Do a workout, stretch and relax with a sea view! The Activity Center in Krk town is located directly by the sea and is an ideal place for active holiday seekers. You get to do exercise outdoors, breathing in the refreshing sea air and enjoying the soothing effect of the sea.
The Activity Centre consists of an outdoor fitness area, the so-called 'balance zone', parkour course and slacklines. In addition, you can join a class for vigorous exercise such as cross-fit or take a yoga or pilates class. Thanks to the Activity Centre, Dražica has become one of the most active Krk sport areas.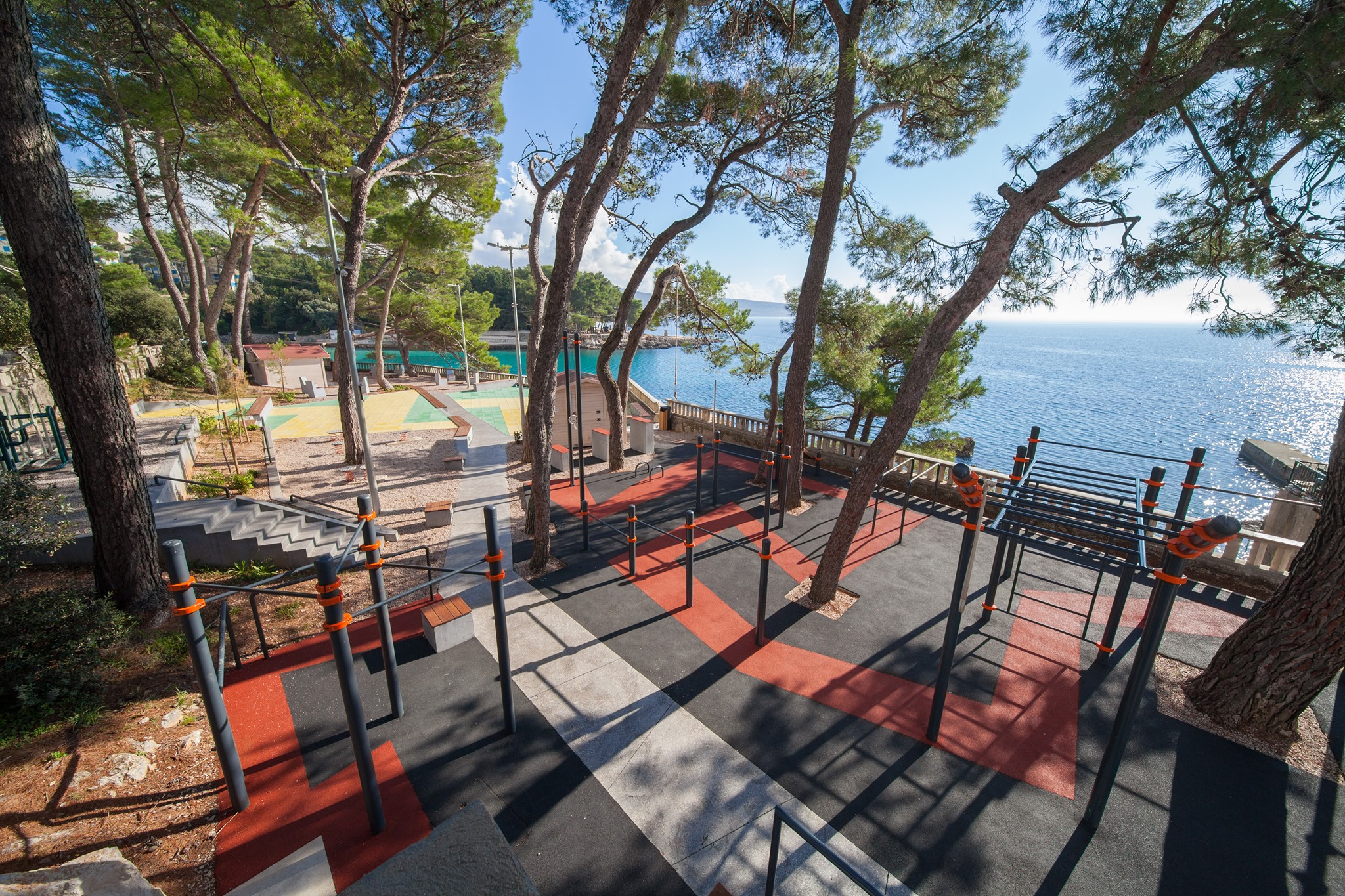 Image source - www.facebook.com/activitycenterkrk/
Play ball - from tennis to mini golf
Keep the ball rolling with your preferred pastime! Take a break from water fun for a different kind of activity. Playing a game of tennis, table tennis or badminton in Krk - sport outdoors in a lovely Mediterranean setting, indeed, is an additional plus on holidays.
Hotel Resort Dražica in Krk town offers several tennis courts, badminton/volleyball court, mini golf course and table tennis equipment. In other words, you can either partner up for a game or enjoy a match with your family not far from the pool complex.
Fun water sports
Swimming, snorkelling and playing water games are basic fun activities on the beach you cannot do without. Still, you can add a special touch to your stay by the sea on Krk - sport on water is one way to go! Not only is it a great form of exercise, but also a world of fun. So, why not rent a kayak or an SUP equipment? Give your body a workout while heading out away from the shore to admire the view of Krk town and the island from the sea.
For an additional thrill, give wakeboard a try! Whether you are a beginner or have previous experience, the wakeboard lift in Dunat, near Krk town, is an excellent place for water excitement.
Holiday adventure with zipline
The perfect way to have a unique holiday experience on Krk - sport & adventure! A great place to start is with Zipline Krk on Dražica beach in Krk town. If you've never tried it before, this is a nice first attempt particularly for kids. Also, the zipline may not be very long, but it stretches above the water.
Krk also has one of the longest ziplines in Croatia - Zipline Edison! Situated between the town of Krk and Baška, the so-called 'canopy tour' includes a 2km zipline ride with stunning views of the island. Other than that, you also get to ride and hike a bit through lovely countryside.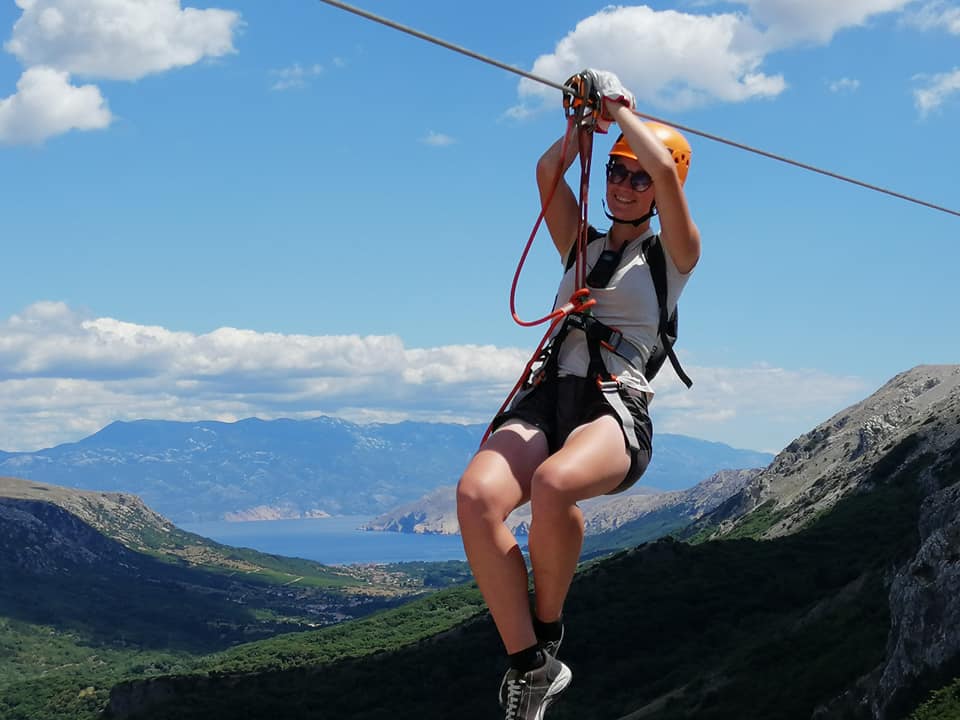 Image source - www.facebook.com/ZiplineEdison/
Excellent cycling options
Out of all Krk sport options, cycling is among the most popular ones! The island is, namely, full of trails of various lengths, profiles and levels of difficulty. Whether you want to take your family on a light cycling trip or do a challenging tour of the island, there are different options to choose from.
Cycling is also one of the best ways to get to know the island and its diverse landscapes. Just by following the trails along the coast, in the interior and uphill, you get to appreciate just how magnificent it is. Most of the trails can also be used for hiking.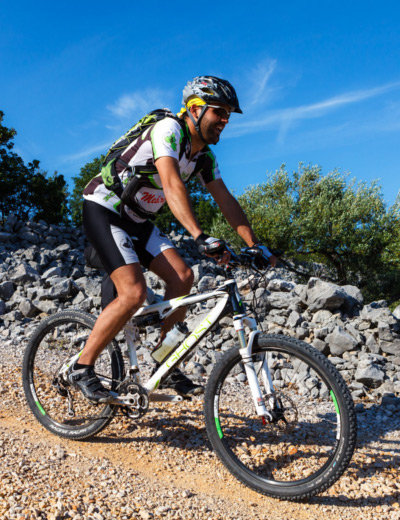 Keepin' it active on holiday
The island of Krk is more than just an excellent holiday destination. It's a place where you can easily continue pursuing your favourite activities or take up new ones. It's where you can get and stay in shape and feel a real thrill doing sports. So, for that special touch to your holiday on Krk - sport is the answer!
Subscribe to our mailing list
Subscribe to our newsletter and save during your next booking. Be among the first to receive information about our special offers and promotions, find out travel information, advice and recommendations for the perfect holiday on the island of Krk.