Top beaches on Krk island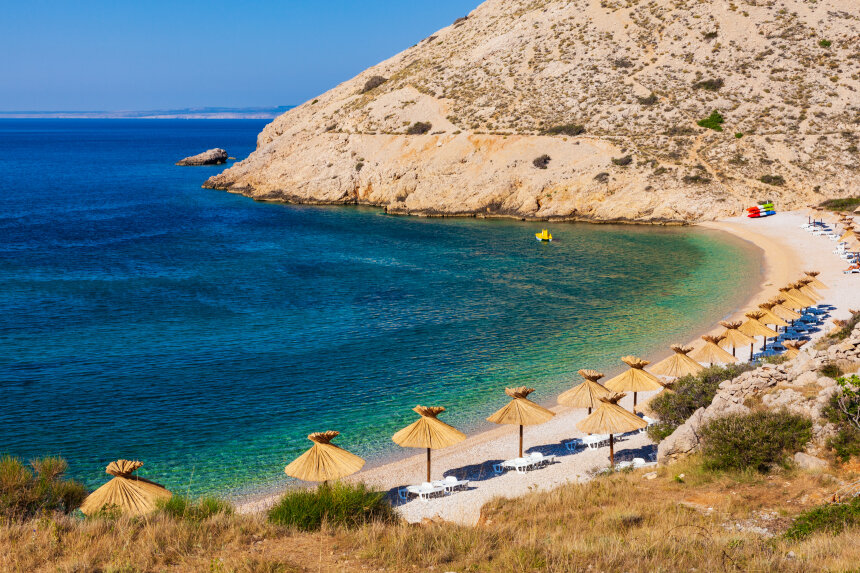 Rocky, pebbly, sandy. Stunning and secluded. With natural shade and crystal clear sea. The island of Krk can truly boast a wide variety of breathtaking beaches. Many of them also have the blue flag label, which is a clear indicator of clean sea and a great offer of amenities at disposal. Similarly, there are also those that are trickier to reach, but are well worth a try. Here is a selection of the top beaches on Krk:
Stara Baška: Oprna & Zala
Take your pick in the area of Stara Baška boasting numerous coves with magnificent scenery, such as Oprna. The must-see pebbly beach with transparent sea requires some well-worth effort to reach. You can take an excursion from Krk town or arrive by boat taxi. If you take the car, be sure to bring proper footwear as you will have to hike downhill. Once there, you can rent a lounger and a sun umbrella, and get some refreshments on the spot.
Further south, there is another lovely pebbly beach, Zala. You can arrive there by boat, bike or by leaving your car in the nearby parking lot. The beach offers a bar where you can grab a drink on a hot summer day.
Vrbnik: Potovošće
Find the secluded treasure in the cliffy eastern side of Krk near the town of Vrbnik! Go for a bike ride or take a car to the pebbly beach Potovošće. (Parking is charged upon arrival). Spending a day there, you can rent beach equipment and get a refreshment from the bar on the spot. You will love the contrast between the clear blue sea and the green hills surrounding the cove.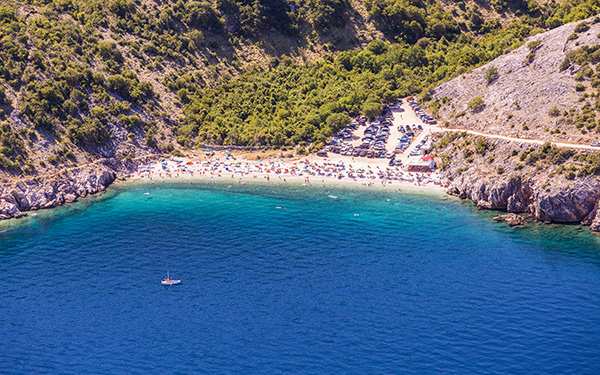 Top beaches on Krk: Potovošće (Image source: Vrbnik Tourist Board)
Baška: Velika Luka and Mala Luka
Look for the hidden gems east of Baška! Velika Luka is a famous beach in a bay, and it is generally approached by (taxi) boats. Namely, it takes a hike of several kilometres along a marked path to get there on foot. You can grab a snack in a restaurant, and rent a lounger, sun umbrella or a pedal boat.
If you continue down the trail a bit further, you will come to the pebbly Mala luka with pastures and remains of fort Corinthia nearby with spectacular views. Both beaches are stunning with the mesmerizing blue sea.
And more top beaches on Krk
Marvel at the magnificent force of nature by visiting Oprna, Zala, Velika Luka, Mala Luka or Potovošće. Just remember that there are even more beautiful beaches for you to discover on Krk!
Subscribe to our mailing list
Subscribe to our newsletter and save during your next booking. Be among the first to receive information about our special offers and promotions, find out travel information, advice and recommendations for the perfect holiday on the island of Krk.