Send message or inquiry

Hoteli Krk d.o.o.
Ružmarinska 6, 51 500 Krk, Croatia
[email protected]
Information and reservations
Sales department
Direct sales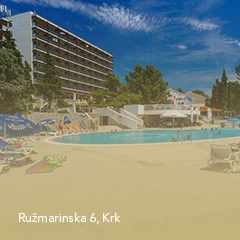 Information and reservations
T +385 51 221 128
F +385 51 221 357
E [email protected]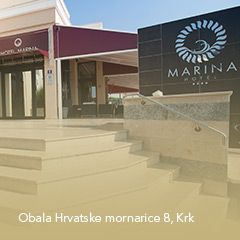 How to reach us
The Island of Krk is situated in the northern part of Croatia, making it the closest island to the Central Europe. It si only 40 km removed from Rijeka, a traffic hub with trains departing towards a number of European capitals on daily basis. Many bus lines run regularly to the island and the airport in Omišalj is also close by. The island is generally well connected and easy to reach from any direction.
ROAD TRAFFIC
Use a Route planner to plan the road route, and if you choose to arrive by bus, make sure to check the bus line information. You can find additional information on the road conditions on the Croatian Auto Club (Croatian: Hrvatski autoklub).
AIR TRAFFIC
The nearest airport is located on the island and only 25 km away.
Find out more about the air traffic.
SEA TRAFFIC
The Island of Krk is well connected with its neighboring islands Cres, Lošinj and Rab. Two ferry lines leaving from the Valbiska ferry port: Valbiska (the Island of Krk) – Merag (the Island of Cres), and Valbiska - Lopar (the Island of Rab) stay operational throughout the whole year. Since the Island of Cres is connected with the Island of Lošinj by a pivot bridge, you have a chance to visit and experience this island as well.
GPS Coordinates
BOUTIQUE HOTEL MARINA
Obala Hrvatske mornarice 8
51500 Krk, Croatia
Latitude: 45°01'30.811''N (45.025225)
Longitude:​ 14°34'30.421''E (14.575117)
The hotel is located in the pedestrian zone with traffic restrictions. When you arrive in the town of Krk, please call the reception on 00385 51 221 128 and ask how to access to the hotel in order to be able to transport the luggage. At the reception desk, you will receive a free parking card for one of hotel or public parking spaces in the vicinity of the hotel.
THE DRAŽICA HOTEL
Ružmarinska 6
51500 Krk, Croatia
Latitude: 45°01'32.556''N (45.02571)
Longitude: 14°34'30.421''E (14.581334)