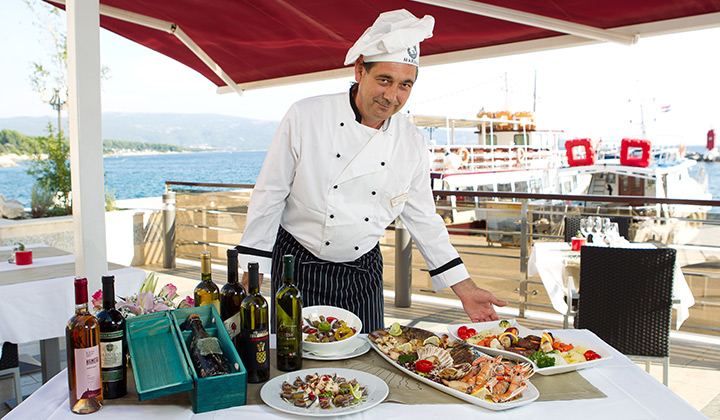 Marina Restaurant is listed among 100 best restaurants in Croatia
Enjoy gastronomic delicacies and experience a real gourmet experience in a comfortable and elegant ambience of the restaurant next to the sea. Along with the gastronomic delicacies of Krk and Croatian cuisine and fish specialties, choose from a classic international culinary offer or try innovative meals prepared by our creative chefs.
Flavors of Croatia
The main characteristics of the Croatian gastronomy is its richness and variety of flavors, which resulted in a number of Croatian authentic products becoming internationally recognized a long time ago.
The gastronomic offer of the Island of Krk is mostly based on the Mediterranean cuisine. A variety of seasonal local groceries is accompanied by the ever-present olive oil, which is always used as a dressing.
Marina Restaurant will prove to be a delight to your senses, with a variety of aromas derived from fresh, carefully prepared groceries.
A beautiful boutique hotel, with elegantly furnished rooms. We stayed in a room with a beautiful port view. Polite personnel, good breakfast and one of the best restaurants. The shop and other restaurants are in the vicinity of the hotel. I intend to come again, but this time I will stay longer.
Peter
The Netherlands