Rich entertainment program at the Dražica Hotel Resort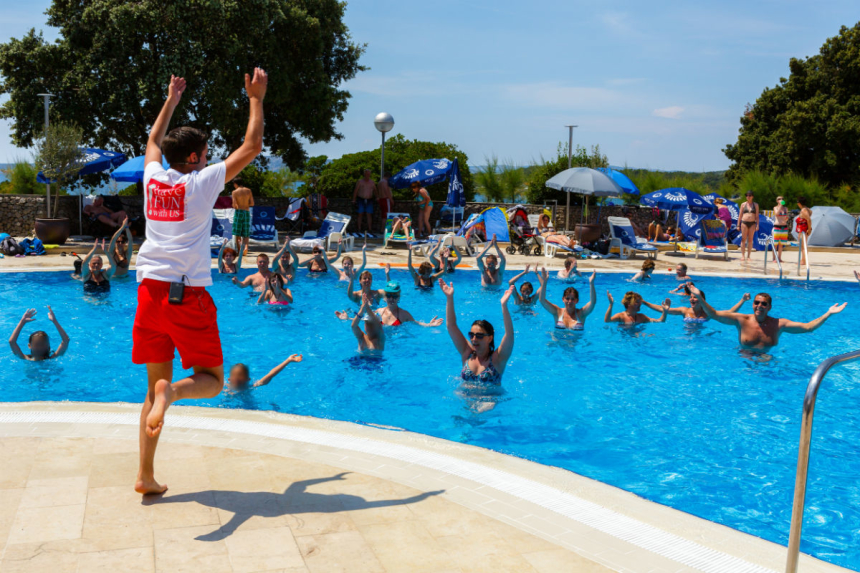 We offer plenty of day and night activities for children and grown-ups from the middle of June to the start of September.
We offer plenty of daytime and evening activities for children and adults, six days per week from mid-June to the beginning of September. The animators of the Dražica Hotel Resort will organize entertainment programs packed with a number of fun activities for both children and adults during that period.
The children will be able to take part in entertaining, educational and sports activities, which will keep their attention and encourage them to make new friends. We offer numerous sports activities with animators/entertainers for the adults as well as an evening program packed with entertaining activities.
A wide selection of entertaining activities and programs guarantees a perfect family vacation at the Dražica Hotel Resort.
Activities for children
Mini Club for children from 4 to 14 years of age
creative workshops – making masks, decorative objects and gifts, as well as drawing, painting etc.
fun activities – treasure hunt, carnival, various hide-and-seek games, play tag etc.
children's sports activities – mini-golf, volleyball, badminton, table tennis, swimming school etc.
educational activities – Croatian language summer school, quizzes
Activities for adults
sports activities – early morning gymnastics, yoga, Pilates, Zumba, aqua aerobic, interesting walking tours
Croatian language summer school
entertaining evenings
Cocktail party, Pool Party (live music, prize games, cocktails)
Croatian Wine night – tutorial on the production of šurlica - Krk home-made pasta, vocal harmony singing-groups or vocal groups, games, quizzes, Blind Wine Tasting
karaoke show
Subscribe to our mailing list
Subscribe to our newsletter and save during your next booking. Be among the first to receive information about our special offers and promotions, find out travel information, advice and recommendations for the perfect holiday on the island of Krk.