Cod fish days at Marina restaurant
We invite you to visit Marina restaurant in the period from 9th to 24th December for an exceptional culinary experience. Do you know a simple fish with royal taste, which once was the basic food of Vikings during their long sailings and expeditions? Of course, it's a cod fish – nowadays one of the most appreciated fish worldwide.
For many of us, Advent is the most wonderful time of the year.
We all look forward to Christmas holidays, enjoy the festive mood and spend more time with family and friends , expecially around holiday table. And traditionally, it's a cod fish that can be found on almost every Christmas Eve table in Croatia.
Cod fish in white, cod fish in red…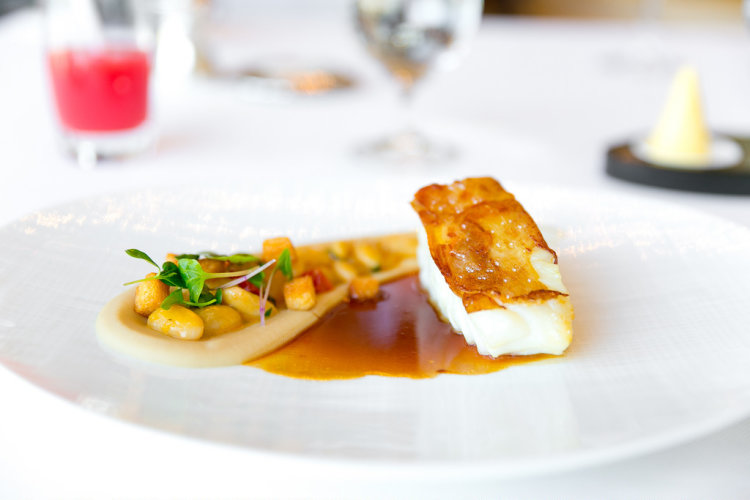 The cod fish is prepared in a number of ways along the Croatian coast. Our elders used to cook it in a clay pot with sliced potatoes, garlic, salted sardines, tomatoes and onions. Nowadays, one of the most popular recipes is cod fish pate, literally translated cod fish in white, which is also included at Marina restaurant menu these days. Here is the recipe:
Cod fish "in white"
Ingredients (for 6 persons):
750 g dried cod fish
200 g olive oil
2-3 garlic cloves, minced
1 bunch of parsley, chopped
salt and black pepper
Directions:
Soak the cod fish in cold water for 12-24 hours, changing water a few times during this period, until the meat swell up.
Afterwards, place the cod in a pot with fresh cold water and cook until it fully softens. Remove skin and bones from the fish and flake the meat into pieces using a fork. Set fish aside in a large bowl and add warm olive oil (you can add some cold oil too), minced garlic and chopped parsley. Season with salt and pepper to taste.
Place it to a food processor or use hand mixer, and blend until it becomes a tender smooth paste. Add its own cooking liquid when needed. Sprinkle some olive oil and serve it with rolls or toasted bread.
There are also numerous ways of preparing cod fish "in red". In addition to basic ingredients, such as garlic, parsley, potatoes and olive oil, those recipes include dried or tomato puree with some wine and pinch of sugar to balance the acidity.
In latest versions there are also pine nuts, raisins, black olives and anchovies.
Cod fish days at Marina restaurant
If you are a fan of a cod fish or you simply want to try it, don't miss an opportunity to visit our restaurant Marina. During the period from 9th to 24th December there will be delicious cod fish dishes included in the menu.
We recommend cod fish "in white", brodetto or cod fish fillet in white wine, and if you want to try several dishes at once you can order tris or cinquina, selected cod fish dishes in one serve.
At Marina restaurant is one of the best Krk's venues for business parties and events, as well as for gathering with family and friends, enjoying delicious holiday specialties.
After fine dining, we recommend experiencing the holiday spirit in the town of Krk - "Advent on placa". On Saturdays, on 15th and 22nd December everyone is invited to Krk's main square to enjoy live music performances, taste delicacies and warm drinks (mulled wine, sausages, cookies...) and share holiday joy.
There will also be a small Christmas fair of local products where you can take your pick of seasonal products, handicrafts, food or drinks.
What more do you need?
Subscribe to our mailing list
Subscribe to our newsletter and save during your next booking. Be among the first to receive information about our special offers and promotions, find out travel information, advice and recommendations for the perfect holiday on the island of Krk.